Mega Valve & Fittings Sdn Bhd
5, Jalan Sungai Rasau E32/E,
Taman Perindustrian Berjaya,
40150 Shah Alam,
Selangor, Malaysia.

+603-51315435
+603-55251956
Hydrosorb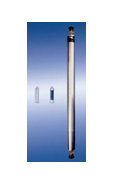 Product features

Hydrosorb® gas purification systems are designed for the removal of moisture from gas flows.
The applied process is based on physisorption.
Moisture (and carbon dioxide) are physically bound to a porous mass and therefore permanently removed from the gas flow.
Technical data
Applicable for
Rare gases, N2, H2, CO, CO2, saturated HC, halogenated HC, N2O, O2 and compressed air
Removed contaminants
Moisture (and carbon dioxide)
Process
physisorption
Final purity
Moisture < 20 ppb