Mega Valve & Fittings Sdn Bhd
5, Jalan Sungai Rasau E32/E,
Taman Perindustrian Berjaya,
40150 Shah Alam,
Selangor, Malaysia.

+603-51315435
+603-55251956
MV1
Spectropur Regulator --- Diaphragm Valves ---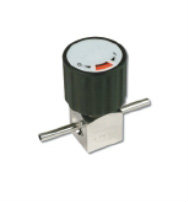 Product features

Metal-to-metal seal to atmosphere using metal diaphragms
Design optimized for low flow restriction and thorough electropolishing of the internal surfaces
All gas-wetted parts made of stainless steel SS 316L, Hastelloy C276 and PCTFE or PVDF respectively
Fully functional even when valve is evacuated
Welded valve stem / diaphragm assembly
No parts in the gas-wetted area exposed to friction or torsional stress provide minimum particle generation
Embedded soft seat seal made of PCTFE or PVDF permits frequent operation without loss of tightness
Modular design for easy replacement of internal parts
Clearly legible position indication (On/Off)
100 % Helium-leak-tested
Assembly in cleanroom class 100/10
Long-term tests with over 25.000 cycles have been successfully carried out
Optional documentation acc. to SEMASPEC
Technical data
Materials
Body:

Diaphragm:
Other gas wetted parts:

Valve seat:

stainless steel 1.4404 ESU (SS 316L remelted)
Hastelloy C276

stainless steel 1.4404 ESU (SS 316L remelted)
PCTFE or PVDF
Surface roughness


optional:

Ra ≤ 0,25 µm
Ra ≤ 0,18 µm
Leak rate
to atmosphere:
via seat:

< 1 x 10-9 mbar l/s He
< 1 x 10-6 mbar l/s He
Pressure range / weight
Manual valve:
LP-pneumatic valve:
HP-pneumatic valve:


200 bar / 0,5 kg
25 bar / 0,7 kg
200 bar / 1,5 kg
Cv-value
0,24 (kv = 0,2)
Nominal size
DN 4
Temperature range
-30°C to +60°C
In- / Outlet
tube stub 6x1x28 mm
1/4" VCR-male
1/4" VCR-female
tube stub 1/4"